mindful Pilates mini online course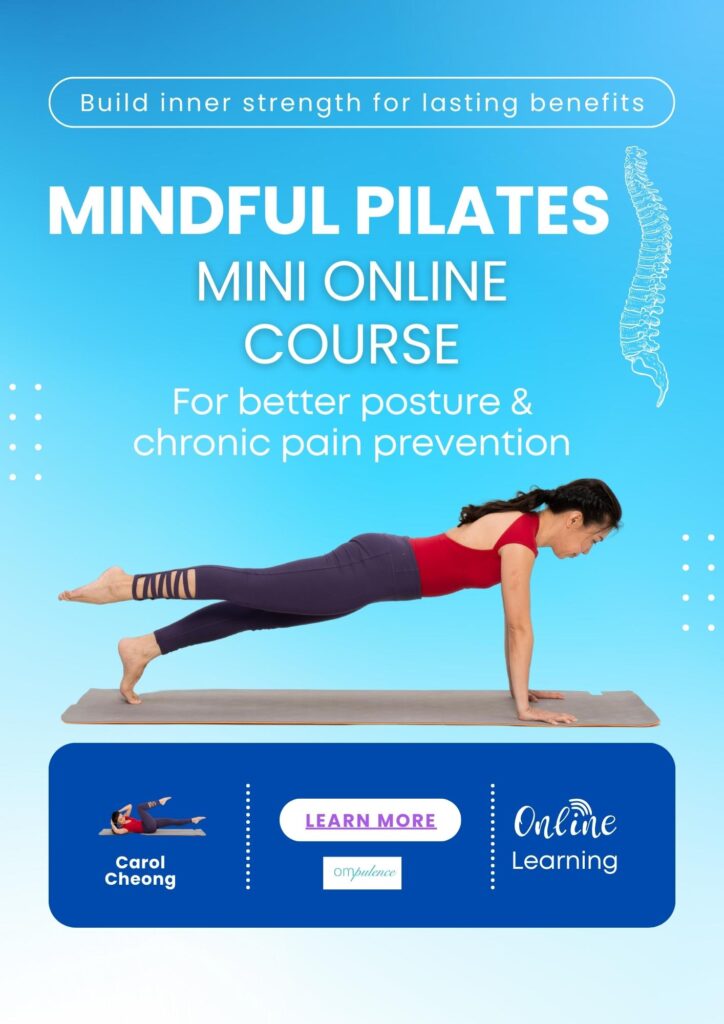 Alleviate your nagging back pain with our Mindful Pilates mini course. If you've been struggling with back pain and want a safe and effective way to prevent it, this mini online course is perfect for you. Carol (principal instructor) will guide you through a series of exercises specifically designed to strengthen your core and back muscles, improve your posture, and reduce your risk of injury.
With this mini online course, you can complete the video tutorials in the comfort of your own home, at your own pace. You'll receive step-by-step instructions, detailed demonstrations and modifications to suit your fitness level.
This mini online course will allow you to find out more about pilates matwork and discover how this highly effective mind-body system can enhance your spinal health. Do not approach it the workout way. Get a good grasp of the 5 basic principles of stott pilates to transform your body and enhance your overall well-being
Don't let back pain hold you back any longer. Sign up now and start feeling stronger, healthier, and pain-free
Mindful Pilates matwork will teach you the basics of mindful Pilates, a gentle form of exercise that focuses on core strength, flexibility, and breathwork. Practising regularly will help you improve your flexibility, strength, and balance. You will learn how to connect your breath with your movement, and how to focus on the present moment. This course is perfect for anyone who wants to improve their health and overall well-being.
What you'll learn:
The basics of Pilates Matwork
How to perform a variety of Pilates exercises
How to incorporate mindfulness into your Pilates practice
The benefits of mindful Pilates
Here are some of the benefits of Mindful Pilates:
Improved flexibility
Increased strength
Better balance
Reduced stress
Improved sleep
Increased energy
If you are looking for a way to improve your health and well-being, Mindful Pilates mini online course is the perfect course for you to kick start your pilates path. We are offering this mini course for only US$27 (Usual Price US$97) for a limited period .
Don't let back pain hold you back any longer. Sign up now and be on our waiting list. Start feeling stronger, healthier, and pain-free this month!